Rice paper cake drying device wins Holcim prize
A group of students from the University of Technology in Danang City won this year's Holcim Prize for their device that uses heat from a kiln to dry banh trang (Vietnamese rice paper cake) last week.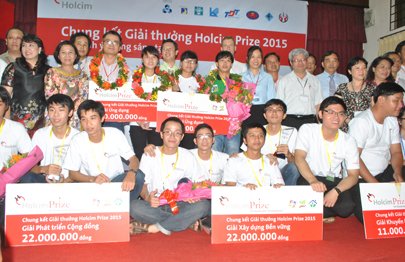 Students get wards at the Holcim Prize 2015 ceremony.
The device created by Nguyen Thi Ha and Dao Thi Phuong helps dry the paper cake and protect the environment by using less rice husk and sawdust for making finished paper cakes. The device targets residents at a paper cake making village in Dai Loc District of the central coast province of Quang Nam.
Ha and Phuong got a cash prize of VND70 million and a fund of VND200 million to commercialize the device.
Organized by Holcim Vietnam Limited, the Holcim Prize 2015 attracted 250 projects of students nationwide in the fields of community development, environmental protection and sustainable construction.
Some noticeable projects included Can Tho University's DIY automatic weaving machine for a shrimp trap making village in Hoa Long Commune in Lai Vung District in the Mekong Delta province of Dong Thap, Ton Duc Thang University's idea to improve the quality and productivity of mushroom planted by coffee waste in Phu Hoa Dong Commune in HCMC's Cu Chi District, and HCMC University of Technology's house model for people in flood-prone areas in the central region.
Prof. Vu Dinh Thanh, chairman of the HCMC University of Technology, appreciated the entries of this year's final and students' creative ideas.
"It's good to know that these initiatives are aimed at economic efficiency, community benefits and environmental protection," Thanh said.
Holcim Prize has been held annually since 2009. Winning projects in previous contests have been commercialized, including the project to collect and treat plant protection drug's packages, a floating restroom and a device to distil fresh water for people in coastal regions.
SGT